Crime writer Walter Mosley to appear at Kepler's to talk about newest mystery
by Michael Berry / Palo Alto Weekly
L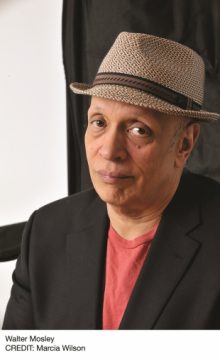 ife rarely goes smoothly for Ezekial "Easy" Rawlins. Chaos, racism and tragedy are part of the package of being a fictional African-American private detective in post-war Los Angeles.
Acclaimed crime novelist Walter Mosley has chronicled Easy's ups and downs in 14 novels,
beginning in 1990 with "Devil in a Blue Dress." The series starts in the Forties, but in the latest installment, "Charcoal Joe," Mosley has brought his signature character up to 1968.
Mosley will appear in conversation with T. Geronimo Johnson, author of "Welcome to Braggsville," at Kepler's Books on June 16. The event is in partnership with 100 Black Men of the Bay Area and the NORCAL branch of Mystery Writers of America (MWA).
The author of 50 books, Mosley is a native of Los Angeles and resides in New York. In April, he was designated a Grand Master by the MWA, the first writer of color to be so recognized since the award was established in 1955.
Reached by phone in Los Angeles and asked about what accounts for Rawlins' enduring appeal, Mosley paused before answering.