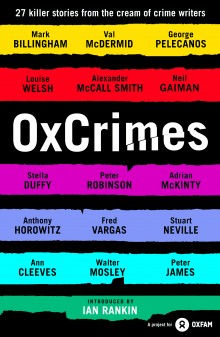 Following the success of OxTales and OxTravels, this collection of crime writing is the latest Oxfam fundraiser, introduced by Britain's greatest crime writer, Ian Rankin, and featuring a compelling cast of suspects.
For 2014, Oxfam and Profile have turned to crime in order to raise a further £200,000 for Oxfam's work.
OxCrimes is introduced by Ian Rankin and has been curated by Peter Florence, director of Hay Festival, where it will be launched in May. The stellar cast of contributors will include Walter Mosley, Mark Billingham, Alexander McCall Smith, Anthony Horowitz, Val McDermid, Peter James, Adrian McKinty, Denise Mina, Louise Welsh and a host of other compelling suspects.
Pre-Order OxCrimes: