Kate Burns interviews Walter Mosley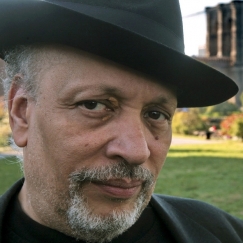 WALTER MOSLEY is one of the greats. He's a prolific novelist who is best known for his crime fiction. He's also written bestselling science fiction, literary fiction, nonfiction, and beyond — over 43 books at last count. Among others, he's won an O. Henry Award, a Grammy, PEN America's Lifetime Achievement Award, and he's the Mystery Writers of America's 2016 Grand Master.
At 64, Mosley is at the top of his game. He is perhaps a little young to be considered an elder statesman, but he's easing into the role with grace. He's deeply knowledgeable but without pretense, rejecting the mystique that sometimes surrounds writing in favor of daily practice and attention to craft. When I met him, he wore his signature fedora and a playfully elegant, oft-described oversized African gold ring.
We sat down during UC Riverside's Writer's Week, at which Mosley was a keynote speaker. I took the opportunity to ask him for some tips about writing, to discuss his recent hand-lettered memoir, the musical that he's working on, and why he doesn't tweet.