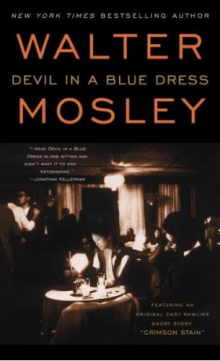 SOUTH BEND — "Devil in a Blue Dress," a 1990 mystery novel by Walter Mosley, will be the "One Book, One Michiana" selection for 2017.
The title was announced Monday by the St. Joseph County Public Library.
Community residents will be encouraged to read the book, and participate in a series of related discussions, lectures, film screenings and other events this spring.
"Devil in a Blue Dress" was Mosley's first published book. The plot focuses on black war veteran Ezekiel "Easy" Rawlins and his transformation from a day laborer into a detective. The story is set in 1948 in the Watts area of Los Angeles.
The novel won a 1991 Shamus Award in the category "Best First P. I. Novel."
The book was made into a 1995 film of the same name, starring Denzel Washington as Easy Rawlins, and also featured Jennifer Beals, Tom Sizemore, Maury Chaykin and Don Cheadle."
(via southbendtribune.com)