Bio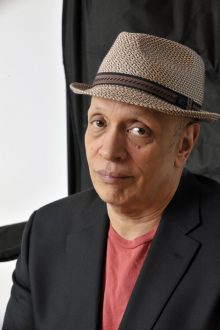 Walter Mosley is one of the most versatile and admired writers in America. He is the author of more than sixty critically acclaimed books that cover a wide range of ideas, genres, and forms including fiction (literary, mystery, and science fiction), political monographs, writing guides including Elements of Fiction, a memoir in paintings, and a young adult novel called 47. His work has been translated into twenty-five languages,
From a forthcoming collection of short stories, The Awkward Black Man, to his daring novel John Woman, which explored deconstructionist history, and his standalone crime novel Down the River and Unto the Sea, which won an Edgar Award for Best Novel, the rich storylines that Mosley has created deepen the understanding and appreciation of Black life in the United States. He has introduced an indelible cast of characters into the American canon starting with his first novel, Devil in a Blue Dress, which brought Easy Rawlins, his private detective in postwar Los Angeles and his friends Jackson Blue and Raymond "Mouse" Alexander into reader's lives. Mosley has explored both large issues and intimate realities through the lens of characters like the Black philosopher Socrates Fortlow; the elder suffering from Alzheimer's, Ptolemy Grey; the bluesman R L; the boxer and New York private investigator Leonid McGill; Debbie Dare, the porn star of Debbie Doesn't Do It Anymore; and Tempest Landry and his struggling angel, among many others.
Mosley has also written and staged several plays including The Fall of Heaven, based on his Tempest Landry stories and directed by the acclaimed director Marion McClinton. Several of his books have been adapted for film and television including Devil in a Blue Dress (starring Denzel Washington, Don Cheadle and Jennifer Beals) and the HBO production of Always Outnumbered (starring Laurence Fishburne and Natalie Cole). His short fiction has been widely published, and his nonfiction—long-form essays and op-eds—have appeared in the New York Times, Los Angeles Times, and The Nation among other publications. He is also a writer and an executive producer on the John Singleton FX drama series, "Snowfall."
Concerned by the lack of diversity in all levels of publishing, Mosley established The Publishing Certificate Program with the City University of New York to bring together book professionals and students hailing from a wide range of racial, ethnic and economic communities for courses, internships, and job opportunities. In 2013, Mosley was inducted into the New York State Writers Hall of Fame, and he is the winner of numerous awards, including an O. Henry Award, The Mystery Writers of America's Grand Master Award, a Grammy®, several NAACP Image awards, and PEN America's Lifetime Achievement Award. In 2020, he was named the recipient of the Robert Kirsch Award for lifetime achievement from Los Angeles Times Festival of Books.
Born and raised in Los Angeles, Mosley now lives in Brooklyn and Los Angeles.