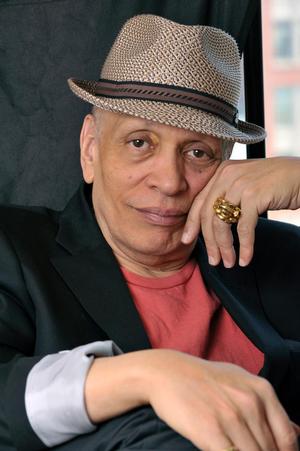 Photo by Marcia E. Wilson/WideVision Photography
Two strangers trapped in an elevator have a fateful encounter in Lift, a suspenseful new drama by award-winning writerWalter Mosley, premiering at Crossroads Theatre Company, 7 Livingston Ave., April 10-24.
Performances are 8 p.m., Thursdays through Saturdays; 3 p.m., Saturdays and Sundays; with additional performances at 10 a.m., Wednesday, April 16, and 7 p.m., Tuesday, April 22. Tickets are $10 to $65. Opening night is Saturday, April 12.
In Lift, two ambitious co-workers meet for the first time when a catastrophic event traps them in a skyscraper elevator. In the darkness, Theodore "Big Time" Southmore and Tina Pardon form an intimate bond, sharing their deepest fears and darkest secrets, touching on issues of race, culture and class.
Lift is directed by Marshall Jones III, Crossroads' producing artistic director. Actors are MaameYaa Boafo as Tina and Biko Eisen-Martin as Theodore, with Shavonna Banks and Martin Kushner in supporting roles. Boafo and Banks are graduates of the master's and bachelor's programs, respectively, at Rutgers' Mason Gross School of the Arts. Biko Eisen-Martin earned an MFA in acting from the National Theatre Conservatory in Denver, Colo. Kushner teaches theater at Middlesex County College.
Mosley, the author of more than three dozen books, is perhaps best known for his best-selling crime fiction, including the popular Easy Rawlins series. Devil in a Blue Dress was made into the 1995 film starring Denzel Washington as Rawlins. Mosley's work has been translated into 23 languages and includes literary fiction, science fiction, political monographs, and a young adult novel. His short fiction has been widely published and his nonfiction has appeared in The New York Times Magazine and The Nation. His many awards include an O. Henry Award, Grammy, and PEN America's Lifetime Achievement Award. Mosley's plays include the one-act White Lilies, which was produced at Crossroads in 2013. Lift will mark his first full-length play to premiere on the East Coast.
"Walter Mosley is a master storyteller – no matter what the medium," Jones said. "When I first read Lift, I couldn't put it down; it is a page-turner, just like his novels. Crossroads is honored to work with such a gifted individual and bring his creative work to our stage."
The creative team for Lift includes:
Andrei Onegin, Scenic Design (veteran designer of the Moscow Art Theater)
Rocco DiSanti – Lighting Design & Projections (projections for Crossroads' Kansas City Swing and Train to 2010)
Anne E. Grosz – Costume Designer (Crossroads' The Last Five Years)
Toussaint Hunt – Sound Designer (Kansas City Swing)
Read the original article, here.