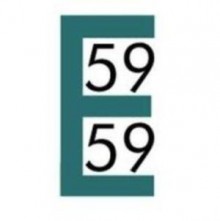 59E59 Theaters announces that the Crossroads Theater Company production of acclaimed novelist Walter Mosley's LIFT will replace GHOST STORIES as part of 59E59's inaugural 5A Season for an October premiere.
"GHOST STORIES needed a very specific stage configuration to pull off the special effects, and unfortunately they just could not make it work in Theater A," explained 59E59 Theaters' Founder and Artistic Director Elysabeth Kleinhans. "However, this gives us the opportunity to present a spectacular new play by a leading American novelist. It's a very exciting production, and we are honored to bring it to New York."
In LIFT, two ambitious co-workers meet for the first time when a catastrophic event traps them in a skyscraper elevator. In the darkness, Theodore "Big Time" Southmore and Tina Pardon form an intimate bond, sharing their deepest fears and darkest secrets, touching on issues of race, culture, and class.
The cast features Biko Eisen-Martin as Theodore "Big Time" Southmore, MaameYaa Boafo as Tina Pardon, Shavonna Banks as Noni Tariq, and Martin Kushner as John Thomas Resterly.
LIFT just completed its world premiere at New Brunswick, New Jersey's Crossroads Theater Company in April, and is directed by Marshall Jones III, the Producing Artistic Director of Crossroads.
LIFT is Mr. Mosley's first full-length play, and the first play of his to arrive in NYC. The author of more than 43 critically acclaimed books, including the major bestselling mystery series featuring Easy Rawlins, Mr. Mosley has won numerous awards, including an O. Henry Award, a Grammy and PEN America's Lifetime Achievement Award.
LIFT joins the previously announced THE PIANIST OF WILLESDEN LANE (July), BAUER (September), and LONESOME TRAVELER (March). There is one more production to be announced.
The single ticket price for each show in the 5A Season is $70 ($49 for 59E59 Members). Single tickets to the 5A Season go on sale on May 27, with a special pre-sale for current 59E59 Members beginning May 19. The 5A Season Bundle (all five shows for $245 with guaranteed same seating for all shows plus a complimentary 59E59 Membership) is on sale now. Tickets are available by calling Ticket Central at 212-279-4200 or online at www.59e59.org.
(via BroadwayWorld.com)