By Steve Novak,
Pittsburgh Post-Gazette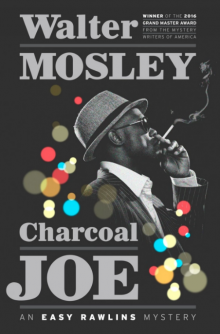 Walter Mosley's private investigator Easy Rawlins has been around for nearly three decades now. Readers first met him in "Devil in a Blue Dress" when he agrees to find a missing person. The task that begins as a lark proves an inspiration to the recent World War II veteran that he may have found a suitable occupation. He takes to the streets of Los Angeles in the early 1940s and feels his way to an unexpected career.
Mr. Mosley's 14th Easy Rawlins mystery, "Charcoal Joe," shows just how far the character has come since that first case. With money he garnered from his last case, "Rose Gold" (2014), he has started his own private investigation agency, complete with two associates. As he walks to his new office, Easy realizes just what has happened to his life.
"I took in a deep breath through my nostrils and smiled, thinking that a poor black man from the deep South like myself was lucky not to be dead and buried, much less a living, breathing independent businessman," he thinks.
Easy's new agency doesn't mean old friends stop relying on him. One of his oldest friends is Raymond "Mouse" Alexander. Early in the new novel, Mouse asks Easy for a favor, telling the investigator that the son of an acquaintance of his has been wrongfully charged with double homicide.
Mr. Mosley gives the reader a lot to chew on in setting up the favor. The accused murderer is a young black man, a graduate student at Stanford University, and has no prior police record. The homicide victims have ties to the Los Angeles crime world of the early 1960s. The man who wants Easy Rawlins to clear the accused is Charcoal Joe, a legendary black mobster currently in jail.
Easy is quickly wedged between a rock and a hard place. Doing a favor for a gangster can be hazardous to one's health, no matter if you succeed or fail. Still, Easy is committed to the case for no other reason than to do a favor for Mouse.
Mr. Mosley always gives the Easy Rawlins novels a thorough description of black life and culture in the Los Angeles area in the 1950s and the 1960s. Much like Raymond Chandler did in his portrait of Southern California for his fictional private eye Philip Marlowe, or Dashiell Hammett did with Sam Spade, Mr. Mosley takes readers into the worlds of everyone from psychopathic criminals to business magnates, along with the minor players such as con men, tipsters, career criminals and cops. Each book is a triptych to another part of Easy Rawlins' world.
The use of the first-person narrative in mysteries and private investigator novels has a long history. Inveterate readers of mystery stories can easily rattle off names of dozens of writers who have used this style. However, it remains a difficult genre if you really want to catch and hold the reader's attention. Nearly anyone can write introductory chapters about being called into solve a case, but it takes a craftsman to create a fictional world where you can picture the people and the places in the investigator's world.
Mr. Mosley works on a wide canvas when he sketches the principal characters in his novels. Before Rawlins ever meets Charcoal Joe, he already has heard enough stories about him that the reader can picture a willful and violent man who is feared by anyone who encounters him. Joe's subsequent actions only enforce this view.
Easy Rawlins' worldview is one that's essential to any successful detective: You have to care but not show it. You have to listen but not always believe what you're hearing. You have to keep going where others have already stopped and turned back.
Despite the hefty criminal history that Charcoal Joe carries, he finally admits to Easy that he has respect and confidence in his ability to clear the young man of the murder charges. Joe knows that Easy has considerable street cred of his own.
"If I was gonna double cross somebody, it sure as hell wouldn't be you," Joe tells Rawlins. "You're one of the most dangerous men in Southern California."
Fans will be glad to know that another dangerous man, Fearless Jones, makes several appearances in this novel. Jones is another of Mr. Mosley's characters, featured in three stand-alone novels as the main character.
The entertainment value of Mr. Mosley's latest book doesn't rule out a corresponding educational side. In the era in which Mr. Mosley sets the story, it was very difficult for a black man to work within the confines of a legal and judicial system that was overwhelmingly white and biased. More than anything else, Easy Rawlins is a man alone, making his own path that others may later follow.
Steve Novak is a freelance writer living in Cleveland.