Crime writer Walter Mosley to appear at Kepler's to talk about newest mystery
by Michael Berry / Palo Alto Weekly
L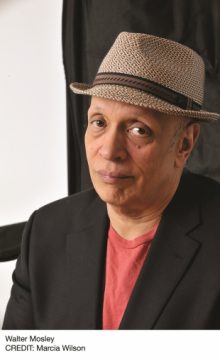 ife rarely goes smoothly for Ezekial "Easy" Rawlins. Chaos, racism and tragedy are part of the package of being a fictional African-American private detective in post-war Los Angeles.
Acclaimed crime novelist Walter Mosley has chronicled Easy's ups and downs in 14 novels,
beginning in 1990 with "Devil in a Blue Dress." The series starts in the Forties, but in the latest installment, "Charcoal Joe," Mosley has brought his signature character up to 1968.
Mosley will appear in conversation with T. Geronimo Johnson, author of "Welcome to Braggsville," at Kepler's Books on June 16. The event is in partnership with 100 Black Men of the Bay Area and the NORCAL branch of Mystery Writers of America (MWA).
The author of 50 books, Mosley is a native of Los Angeles and resides in New York. In April, he was designated a Grand Master by the MWA, the first writer of color to be so recognized since the award was established in 1955.
Reached by phone in Los Angeles and asked about what accounts for Rawlins' enduring appeal, Mosley paused before answering.
"I would say Easy represents one of the primary characters in the American drama of the 20th century. But he hasn't been allowed entree onto the stage. He's one of those people who live there in the background — they're serving you a drink or sweeping the street — but they never become anywhere near central in the drama unfolding," Mosley said.
"These are people you don't know about. There are many people like that in America, and Easy is one of them."
In "Charcoal Joe," Easy has some money at his disposal for the first time in a long while, allowing him to send his adopted daughter to a private school and to set up a new detective agency for himself and two partners. At the urging of Mouse, his dangerous childhood friend, Easy reluctantly agrees to meet with Rufus Tyler, an old convict known to everyone as "Charcoal Joe." Joe has a friend whose physicist son, Seymour Brathwaite, has been arrested for the murder of two white men. Joe wants Easy to exonerate the young man, a request with repercussions that will bring the detective to the brink of death and back once again.
Mosley said his father was a "black orphan from Louisiana"; and his mother "a Jew from the Bronx." His father's stories of life in postwar L.A. informed the early Easy novels, but there came a time when Mosley fully intended to kill off his detective. In 2007, "Blonde Faith" ended with Rawlins' car plunging down a ravine, presumably taking the detective to his death. "I realized it was because the baton was being passed from my father's life and his experience into mine," Mosley said. "I really couldn't put my father in my present, the present of 1968, 1969 and 1970."
Nevertheless, six years later, Mosley resurrected Easy in "Little Green." The author has since maintained a steady rhythm in producing further adventures.
"I find that whole period, from '65 to '80 to be — I don't want to say more interesting than any other period [because I don't want to sound like people who think their experience is the only one — but it's one that I know very well. In writing about it, I'm exploring myself."
He's also exploring issues of race in America. The prejudice Easy faces in the novels hasn't gone away. Mosley said that readers tell him, in the wake of the violent deaths of black men such as Michael Brown, Trayvon Martin and Freddy Gray, "Look what's happening to black people. It seems to be happening every day now."
His response?
"The answer is, 'Well, yeah, it is happening every day, and it has happened every day for the past 400 years.' "
What's changed, Mosley said, is technology, which allows anyone with a smartphone to capture events as they happen.
"You only believe it because you're seeing that video," he said.
Mosley isn't content to remain within a single literary genre. In addition to a second mystery series featuring modern-day PI Leonid McGill, Mosley has published mainstream literary fiction, science fiction, erotica and essays about race and politics. Although all his mysteries address political issues, there are times when he puts aside the trappings of the genre. "I have a book coming out in September, 'Folding the Red into the Black,' a criticism of capitalism and socialism, both. I'm not going to write a mystery about that. Trying to figure out who did the crimes – the capitalist or the socialist? That would be silly."
Nevertheless, Mosley acknowledges, "I don't think anyone wants me writing anything but mysteries. [But I write what I want to write.
"It's not caprice that makes me write these kinds of things," he said of his work outside the crime genre. He points to his "The Last Days of Ptolemy Grey," which deals with dementia, as an example that needed no whodunit hook. "You can write a mystery about dementia, but it's almost like you having to add an extra novel," he said. "It's like putting a hat on a hat. You don't need a hat on a hat; you just need the hat."
As for his writing regimen, he makes it sound simple. "I wake up every day, and I write for three hours," he said. "That's the whole definition of my writing life. It's never changed."
Asked whether the task of writing has become easier as he's matured, Mosley countered, "It's like weight lifting, right? Has the lifting gotten easier? No, the weights have just gotten heavier. If weight lifting gets easier, you're not doing it right."
Mosley is prolific and maintains a consistent schedule, but his approach to writing is anything but lockstep. There might be another Easy Rawlins novel at some point, but the details are extremely sketchy.
"I met a writer the other day who says he has his whole series planned out," Mosley said. "He knows the last line of each novel – sixteen books.Wow! That's ridiculous! Me, I just meander."