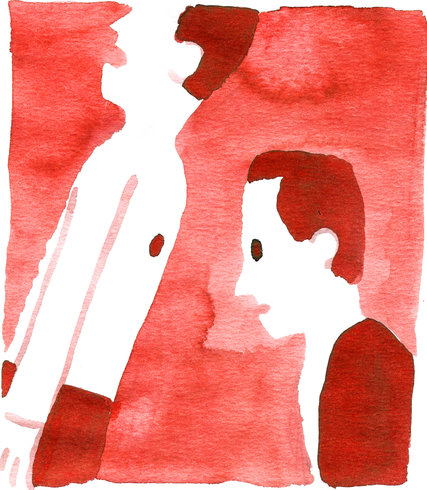 Walter Mosley breaks every rule in the private-detective-story stylebook in his new mystery featuring Leonid McGill, AND SOMETIMES I WONDER ABOUT YOU (Doubleday, $26.95). His New York sleuth's disorderly domestic affairs keep threatening to overwhelm the crime elements, and a vital piece of the plot isn't introduced until midway through the book. And when Mosley does wrap things up, he makes no effort to connect any of the multiple subplots.
So why the devotion? To begin with, McGill is one of the most humane (and likable) P.I.s in the business. He's a short man, and every time a male character is introduced McGill automatically estimates his height. ("Just a centimeter or two north of six feet"; "Standing face to face, we were the same height"; "Medium-­sized. . . . but with bad posture.") Although he hesitates to call himself a family man, he's dedicated to his clinically depressed wife and the brood of grown children he considers his own. And despite being a hard man with a rough past, he does his best by his clients, even taking on the posthumous case of a despondent man he regrets turning away: "I could afford to do a good deed for some poor schlub down on his luck."
Like his messy personal life, McGill's casebook is totally disorganized. The job that most interests him (once he begins an affair with his client) concerns a femme fatale being pursued by the rich fiancé she ditched after selling his engagement ring. The most bizarre plot thread involves a Fagin-like villain who runs a criminal network of child thieves from an underground lair by the Hudson River. But Mosley's strengths have less to do with plot than with the colorful characters he puts in his protagonist's path, like the retired hit man McGill advises to take up meditation (as a way of resisting the itch to kill), or the gunman he personally hires over a game of chess.
With Mosley, there's always the surprise factor — a cutting image or a bracing line of dialogue. McGill is about to bid farewell to a woman he loves when: "It struck me that we'd not discussed literature." He's also gratified to trace a clue to a 13th-century edition of Herodotus' "Histories." As a final treat, the story ends with a wedding in a boxing gym.
(via The New York Times Sunday Book Review)