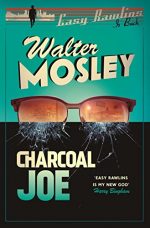 By David Prestidge
Crime Fiction Lover
On the Radar — Ezekiel 'Easy' Rawlins returns this week for another neon-lit adventure among the hills and boulevards of Los Angeles. We've also got a new printing of Dashiell Hammett's short stories, and a great selection of further crime novels to try.
Charcoal Joe, by Walter Mosley
PI Easy Rawlins doesn't look for trouble but when his old friend, the lethal hitman nicknamed Mouse asks for help, he knows that trouble will soon be looking for him. Mouse isn't a man who takes no for an answer, and soon Rawlins, trying to help the man they call Charcoal Joe, is doing his best to avoid hits from all directions on the glitzy streets of LA. In our back pages you can read our PI Case Files on Mosley's most memorable creation. Out on 16 June.