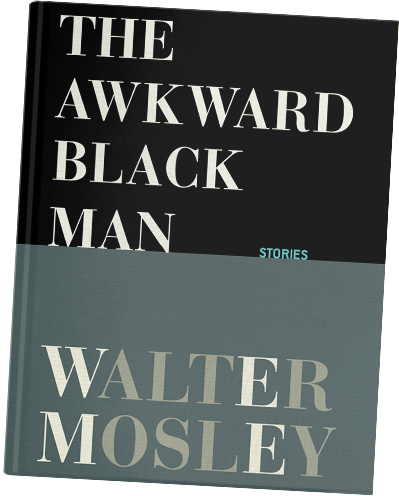 "In this collection of simple and complex portraits of a wide range of Black men, Mosley…defies the stereotypical images that abound in American culture…present[ing] an array of men in varying circumstances facing racism, obstructed opportunities, and other terrors of modern life, including climate change, natural and manmade disasters, homelessness, urban violence, and failed relationships . . . Master storyteller Mosley has created a beautiful collection about Black men who are, indeed, awkward in their poignant humanity." —Booklist (starred review)
 "The tough-minded and tenderly observant Mosley style remains constant throughout these stories even as they display varied approaches from the gothic to the surreal. The range and virtuosity of these stories make this Mosley's most adventurous and, maybe, best book." –Kirkus Reviews
Praise for Walter Mosley:
"When reviewing a book by Walter Mosley, it's hard not to simply quote all the great lines. There are so many of them. You want to share the pleasures of Mosley's jazz-inflected dialogue and the moody, descriptive passages reminiscent of Raymond Chandler at his best."―Washington Post, on Down the River Unto the Sea
"With Mosley, there's always the surprise factor ― a cutting image or a bracing line of dialogue."―New York Times Book Review, on And Sometimes I Wonder About You
"Mosley is the Gogol of the African-American working class ― the chronicler par excellence of the tragic and the absurd."―Vibe
"[Mosley] has a special talent for touching upon these sticky questions of evil and responsibility without getting stuck in them."―New Yorker
Across his wide-ranging literary career, bestselling and award-winning author Walter Mosley has proven himself a master of narrative tension, both with his extraordinary fiction and gripping writing for television. THE AWKWARD BLACK MAN (Grove Press; Publication Date: September 15, 2020, $26.00 Hardcover; ISBN-13 978-0-8021-4956-5) collects seventeen of Mosley's most accomplished short stories to showcase the full range of his remarkable talent.
Mosley presents distinct characters as they struggle to move through the world in each of these stories—heroes who are awkward, nerdy, self-defeating, self-involved, and, on the whole, odd. He overturns the stereotypes that corral black male characters and paints a subtle, powerful portrait of each of these unique individuals. In "The Good News Is," a man's insecurity about his weight gives way to a serious illness and the intense loneliness that accompanies it. Deeply vulnerable, he allows himself to be taken advantage of in return for a little human comfort in a raw display of true need. "Pet Fly," previously published in the New Yorker, follows a man working as a mailroom clerk for a big company—a solitary job for which he is overqualified—and the unforeseen repercussions he endures when he attempts to forge a connection beyond the one he has with the fly buzzing around his apartment. And "Almost Alyce" chronicles failed loves, family loss, alcoholism, and a Zen approach to the art of begging that proves surprisingly effective.
Touching and contemplative, each of these unexpected stories offers the best of one of our most gifted writers.