Six-time NBA champ Kareem Abdul-Jabbar may be best known as the leading scorer in professional basketball of all time. Yet Abdul-Jabbar is also a major editorialist and an author books such as Mycroft and Writings on the Wall: Searching for a New Equality Beyond Black and White. Recently, he joined the prolific novelist Walter Mosley at LIVE from the NYPL. For this week's episode of the New York Public Library, we're proud to present Kareem Abdul-Jabbar and Walter Mosley discussing depictions of the British Empire, a lifelong love of English, and how Beethoven inspired concentration.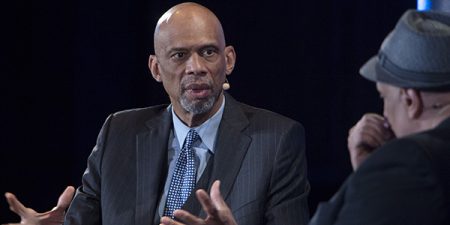 Mosley spoke admiringly of Abdul-Jabbar's reframing of Sir Arthur Conan Doyle's work, placing Mycroft Holmes at the center of his novel and moving him to Trinidad:
"The wonderful thing about Doyle writing about Sherlock Holmes is that Sherlock Holmes was very aware of the empire, only the empire only occured in London. So there are all these people from all over the world. There's somebody from India and somebody from Pakistan and somebody from the Caribbean and someone from African and someone from the colonies. But they were all in England. It was very rare. I think there was one story where he went to America, but it's almost like turning him on his head, saying, okay, I'm going to take this Holmes character, Mycroft Holmes who is not only his older brother but his smarter, older brother, who you take to Trinidad which is really kind of wonderful when you take a body of literature and actually turn it inside out."
Asked about his transition from athlete to author, Abdul-Jabbar explained that, in fact, his personal evolution worked in the opposite order:
"I enjoyed reading and writing a long time before I was any good at playing basketball… All the things I'd written when I was kid inspired me to attempt writing. The nuns at my school thought they saw some talent there. They encouraged me. They entered me in essay contests they had. The Catholic Diocese here would have essay contests, I represented my school. So I always had a little penchant for it, and when I got to UCLA I was an English major and again got encouragement from my teachers. That was in place long before I knew anything about basketball, and plus, my first love was baseball anyway. Brooklyn Dodgers!"
Abdul-Jabbar compared his work ethic to that of his father. Specifically, he spoke of the way that his hook shot belonged to a legacy of discipline in his family:
"My dad went to Julliard School of Music, and he was a trombone player. In order to get out he had to take piano. He had to play Moonlight Sonata. I think it's Beethoven. I'm pretty sure. And he'd be practicing it all the time. I ended up where I knew it by heart just listening to him practice all the time, and I remember I'd be in my room, and he'd be out practicing, and I'd be like, 'When is he ever going to stop playing that song?' but I went on ahead and practiced my hook shot in the same way and same determination to make it, to get into high school, to get a scholarship to high school."
You can subscribe to the New York Public Library Podcast to hear more conversations with wonderful artists, writers, and intellectuals. Join the conversation today!