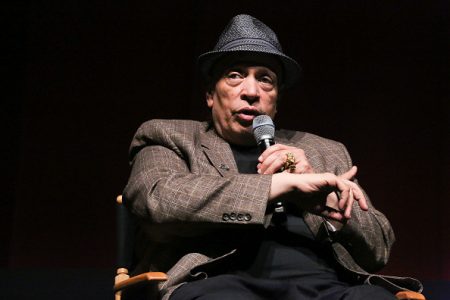 The prolific author of the Easy Rawlins series writes what about whatever he wants, even if he has to switch publishers to get it done.
BY: RONDA RACHA PENRICE
Posted: July 10, 2016
Walter Mosley's website lists books he's written. Right now there are 48: 43 fiction and five nonfiction. And later this year, he'll add to the list—a highly intellectual book titled, Folding the Red Into the Black: Developing a Viable Untopia for Human Survival in the 21st Century, which is due out in October. "It's a repudiation of both capitalism and socialism on another level," he explains.
Charcoal Joe, his most recent work of fiction, which came out last month, is perhaps more familiar territory for most of us. It is Mosley's latest from his Easy Rawlins mystery series. Back in 1995, Denzel Washington played Easy, and Don Cheadle, in a breakout role, played Mouse on the big screen in Devil in a Blue Dress. The last book in the series, Rose Gold, was published two years ago, and Rawlins is picking up from there. It's Los Angeles in the late 1960s, where race and life intersect. Mosley has visited Rawlins' life for 14 books now, and he hasn't felt stuck.
"When we started off, he was 19 in Gone Fishin', which was published by Black Classics Press [owned by Paul Coates, father of Ta-Nehisi], and then he was 28 in the first mystery, and now he's 48 in the current mystery. So it starts off in 1939 and goes into 1948, and now he's in 1968. Not only is he older; the world has changed. For black people, the difference between 1939 and 1968 is magnificent," Mosley explains.
As a writer, Mosley, 64, has refused to be boxed in. The Los Angeles native, who has lived in New York most of his adult life, loves being both prolific and versatile. "Writing Charcoal Joe was lots of fun, so I'm happy about it," he says. "But I'm also happy about the science fiction book I just wrote. I wrote a one-off of a mystery novel recently called Detective, Heal Thyself." He also has a new "semisurrealist memoir," The Graphomaniac's Primer, which is only available on Black Classics Press.
Ask him if he has themes that ring true for most of his work and Mosley responds, "I just write books." He also admits, "I'm sure there are many similarities in my books, but I don't know what they are. I know that I write about black male heroes mostly. That's what I do. It wasn't a decision. I wrote five books and I said, 'Wow, they're all about black male heroes; that's interesting,' and I wrote some more books and they were still about black male heroes. I was like, 'Wow, that must be what I'm doing.'"
Black men, he says, do get represented in the mainstream these days, but "there's not one representation. There are a few and they are very powerful. There's hip-hop," he offers. "It's as much modern culture as blues was to our culture a hundred years ago.
"There's Barack Obama," he continues, "which is this giant thing. There's sports and, to some degree, Hollywood, but there is sports. The major heroes in the major sports are black."
Does the Black Lives Matter movement affect his writing? "I've been writing about it the last 30 years," he quips. "It's about black lives and they all matter," he says of his work.
"I think it's very important for the audience to identify with the characters in a sense deeper than they're victims because the idea of thinking of yourself as a victim is just problematic by itself," he continues. "To think you're a victim, that's a problem, because really, you're a hero." Ultimately, "who is the person inside, and what are they thinking and how do they feel?" is what matters most.
Despite his incredible productivity and considerable track record—which includes plays (Lift, which premiered at Crossroads Theatre Co. in 2014), erotica (2006's Killing Johnny Fry: A Sexistential Novel) and science fiction (1998's Blue Light)—Mosley says that the publishing process is not any easier for him, even decades later.
"The publishers, they're very hard on me," he sighs. "I have to change publishers every few years because all they want me to do is write mysteries. When I wrote Debbie Doesn't Do It Anymore [about a porn star who leaves the industry], I had an argument with my editor for nine months." The publisher wanted him to write noir, but Mosley refused. Eventually they published it the way he intended, but Mosley doesn't delude himself.
"He is not going to accept another book like that from me, so I'm going to have to find another publisher for the next one like that," Mosley explains. He is honest enough not to pretend that he has more say-so than he does.
"Power," he explains, "I can make him publish it. I don't have that, so what I have is I just have to find another publisher. That's what you do. You just go to somebody else."
From experience and his work in political theory, Mosley knows that he has it better than most. "The people who build your buildings don't live in those buildings. The people who grow your food don't share in your wealth. The people who make your clothes don't get to own your clothes. That's a fact. So OK, now I'm accepting the fact, and how does that change? My book Folding Red Into Black talks about that change, but still, it's just very difficult."
A pure artist not swayed by fame and praise, Mosley is quite serious about not keeping track of public opinion. "I don't know what people think about my work, and as a rule, I don't listen. I'm going to do my work anyway, regardless of what people think," he vows. And that's whether anyone is in line to publish it or not.
(via theroot.com)