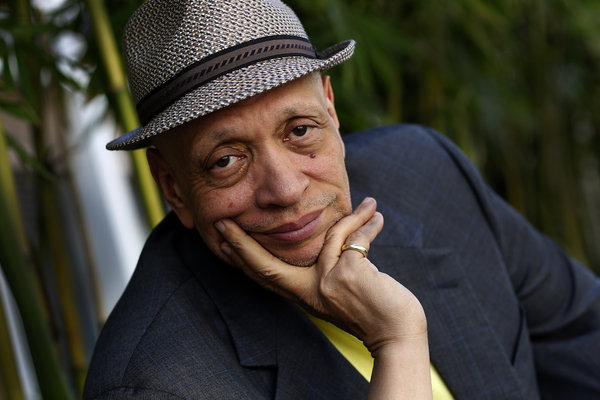 Author Walter Mosley. (Kirk McKoy / Los Angeles Times)
The Writer's Life, By David L. Ulin, Los Angeles Times Book Critic
When last we saw Walter Mosley's detective Easy Rawlins, he had just lost control of a car he was driving on the Pacific Coast Highway north of Malibu. This was in the closing pages of the 11th (and apparently final) Rawlins book, "Blonde Faith," published in 2007. "The back of my car hit something hard," Easy tells us, "a boulder no doubt. Something clenched down on my left foot and pain lanced up my leg. I ignored this, though, realizing that in a few seconds, I'd be dead."
And yet, six years later, Easy is back, narrating a new novel, "Little Green" (Doubleday: 292 pp., $25.95), that picks up where "Blonde Faith" left off. He is, if not entirely alive, then at least present, navigating a 1967 Los Angeles he barely recognizes in the wake of both the Watts riots and the Summer of Love.
"It was great," Mosley enthuses, "because for all intents and purposes, Easy was dead. And when he came back to consciousness, he felt dead. … Most of my novels are about redemption. But 'Little Green' is about resurrection. And so, I naturally followed it, from having him wake up dead to, at the end of the book, actually being alive."
For Mosley, writing about Easy again is a kind of homecoming, precisely the process in which he is engaged today. A tall man, bald and gently spoken, he stands at Pico and Genesee, wearing a hat, a jacket and black shoes.
He's in town from New York — where he moved in 1979 after attending Goddard College — for a bookseller dinner and meetings, but he's agreed to spend an afternoon walking this Mid-City neighborhood, where he grew up and where, in his fictional universe, Easy lives.
"I imagine Easy living up here on Genesee on the right side. Somewhere, one of those houses," he says, gesturing at a line of houses north of Pico, just past the BreitBurn rig, an oil well camouflaged by the façade of a fake office building that, Mosley notes, "has been here since I lived here."
These are the details, the little nuances, that give the Rawlins novels such resonance. Taken together, they form an extended social fiction, as much Balzac as Raymond Chandler, charting the life of Los Angeles — and especially African American Los Angeles — in the decades after World War II.
The first book, "Devil in a Blue Dress," which came out in 1990, introduces Easy as a young veteran, new to Southern California and enmeshed, at times against his will, in the region's overlapping layers of race and class. The year is 1948, a turning point, and yet underexplored in L.A. literature.
"One of the problems I saw, or one of the empty places I saw, in the literature about California," Mosley says, "was that you really didn't know about all the people of color who moved here. It's not just black people. It's the Koreans, the Mexicans, the Chinese, the Japanese. Central Avenue is just as important as Hollywood or Sunset. That's where all the music was."
The same might be said of Mid-City, to which Mosley's parents came, like Easy, from South Los Angeles. "I was born," he recalls, "at 116th and Central. We moved to 76th and Central before I even remember. I lived there until I was 12, and then we moved to this neighborhood."
Part of the appeal had to do with the layout of the streets, which Mosley calls "really kind of gorgeous, that California dream, that working class — which many people confuse as middle class — California dream, with a house and a lawn and a great place to live."
In many ways, that describes his parents, who bought a pair of duplexes on Spaulding, just south of Pico, in 1964. Yet equally important is how the neighborhood reflected, and continues to reflect, the changing face of Los Angeles: both its diversity and its tortured history around race.
"This neighborhood," Mosley says, "has always been in flux. First, it was mostly white, mostly Jewish. Then black people moved in. When we came, it was mostly white people. After awhile, mostly black people lived here. But then, the white people moved back, which I thought was wonderful. I never saw anything like that. And so it became truly mixed."
To some extent, this has to do with Pico, long considered a dividing line between white and black L.A. Yet even in the 1960s, Mosley recalls, such boundaries were growing porous, which "Little Green" reflects. "Really," he says, "the police's line was Olympic. If you crossed Olympic, the police would stop you."
Easy himself lives north of Pico, and as "Little Green" progresses, he finds himself in a host of unexpected situations, beginning with the hippie culture of the Sunset Strip, where he investigates the disappearance of a teenager from his neighborhood. Along the way, Mosley reintroduces Mouse, Jackson Blue, Etta Mae, Mama Jo, as well as Easy's kids, Jesus and Feather — all the characters who, all along, have helped him maintain his foothold in the world.
That this is essential should go without saying, for the Rawlins books have always been about community.
"You know," Mosley observes, "you can have the existentialist detective. He's all alone; he may know somebody, but that person's only going to appear in one book, and then it's over. But Easy, he works with people. He trades favors. That's part of how he lives."
He also moves through many different strata of the city, his role as detective allowing him a kind of access that most civilians never know. In "Little Green," this is only heightened because so many people think he's dead. If nothing else, it gives him an advantage, keeping his adversaries (and his friends too) just a little off-kilter, as if unsure whether they are dealing with a human or a ghost.
As for Mosley, this is the draw of returning to the character, that he can frame him differently.
"The reason I ended it," he notes, referring to the original arc of the series as well as the grim finale of "Blonde Faith," "was that I thought my work on it was no longer interesting. I'd been writing about Easy, about Easy, about Easy, and I had fallen into a rut. He needed to be reborn."
Now Mosley plans to keep him around for a while; he's just finished a follow-up to "Little Green" called "Rose Gold."
"It's fun to open that door again," he says as he makes his way back to Pico, through the streets where he and his detective have their roots. "You write and you discover. All art comes from the unconscious. You keep doing it and things keep coming up and they take form. Then your consciousness sees the form and works with it. But what comes out is something else."