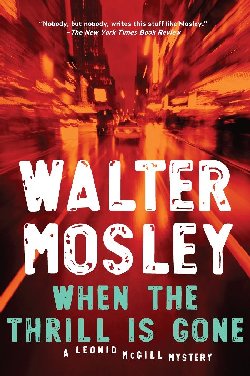 Leonid McGill is back, in the third-and most enthralling and ambitious-installment in Walter Mosley's latest New York Times– bestselling series.
The economy has hit the private-investigator business hard, even for the detective designated as "a more than worthy successor to Philip Marlowe" (The Boston Globe) and "the perfect heir to Easy Rawlins" (Toronto Globe and Mail). Lately, Leonid McGill is getting job offers only from the criminals he's worked so hard to leave behind. Meanwhile, his life grows ever more complicated: his favorite stepson, Twill, drops out of school for mysteriously lucrative pursuits; his best friend, Gordo, is diagnosed with cancer and is living on Leonid's couch; his wife takes a new lover, infuriating the old one and endangering the McGill family; and Leonid's girlfriend, Aura, is back but intent on some serious conversations…
So how can he say no to the beautiful young woman who walks into his office with a stack of cash? She's an artist, she tells him, who's escaped from poverty via marriage to a rich collector who keeps her on a stipend. But she says she fears for her life, and needs Leonid's help. Though Leonid knows better than to believe every word, this isn't a job he can afford to turn away, even as he senses that-if his family's misadventures don't kill him first-sorting out the woman's crooked tale will bring him straight to death's door.
Early Praise for WHEN THE THRILL IS GONE:
"Mosley fills his third thriller featuring New York City PI Leonid McGill (after Known to Evil) with insights even deeper than the mysteries McGill is trying to solve redirected here. Chrystal Tyler, a potential new client, tells McGill that she's afraid her billionaire husband is having an affair and may kill her. While McGill realizes the woman is lying, he needs the case and agrees to see what he can do to make her husband back off. Meanwhile, McGill's wife of 24 years, Katrina, is having an affair; his favorite son, Twill, has a new scam working; and longtime boxing mentor Gordo Tallman is living in his apartment, fighting cancer. Then Harris Vartan, a dangerous organized crime figure, asks a favor that will lead McGill on a journey of self-discovery. Readers will encounter the full panoply of complex Mosley characters, from deceitful women to ruthless killers, but it's the often surprising bonds of love and family that lift this raw, unsentimental novel."
– Publishers Weekly, starred review