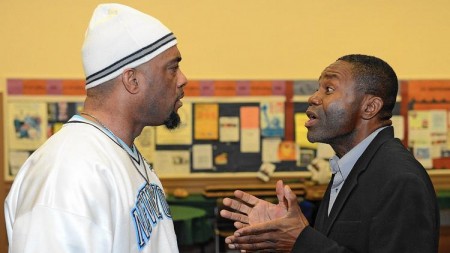 Crowded Kitchen Players' production of Walter Mosley's dark comedy "The Fall of Heaven," which premieres in the Lehigh Valley Friday, will kick off the company's series of plays designed to provide a forum on racial discrimination.
"The Fall of Heaven" is the first play in "Voices of Conscience: Toward Racial Understanding," a joint effort by Crowded Kitchen, Selkie Theatre, Allentown Public Theatre, the Basement Poets and other arts organizations.
Crowded Kitchen's production is only the second of the morality play written by the well-known mystery author. It will be presented in Trinity Episcopal Church's fellowship hall, 44 E. Market St. Bethlehem.
"The Fall of Heaven," written in 2011, was Mosley's first play. Mosley has written more than 40 books, and wrote "The Fall of Heaven," his first play in 2011, based on his 2008 book "Tempest Tales."
In the story, based on Mosley's 2008 book "Tempest Tales," Tempest Landry (William Alexander Jr.) is a street-wise young black man living in Harlem, who is "accidentally" shot 17 times by police and finds himself at the pearly gates facing St. Peter (David "Oz" Oswald). When St. Peter tells him he is to go to hell, the quick-witted Tempest refuses to go and through a technical loophole is able to go back to earth, with a new identity and body. He also is accompanied by the accounting angel Joshua (Roy Shuler).
In life, Tempest was no angel, but he was far from evil. Joshua is out to prove goodness prevails and the resulting battle of wills takes an intriguing look at good versus evil and what it means to be human.
Mosley's book was inspired by Jesse B. Semple, the memorable character created by Langston Hughes in his "Simple Stories."
Director Ara Barlieb calls the play a "comedy of the human condition" and says it is very timely.
Mosley is the author of the acclaimed "Easy Rawlins" series of mysteries, the "Fearless Jones" series and the collection of short stories featuring "Socrates Fortlow," "Always Outnumbered" and "Always Outgunned," for which he received the Anisfield-Wolf Award.
The cast also features Erica Baxter and Felicia White. The play is being stage managed by Brian McDermott.
•"The Fall of Heaven" 8 p.m. Friday, Saturday and Nov. 13, 14; 3 p.m. Sunday and Nov. 15. Trinity Episcopal Church, 44. E. Market St., Bethlehem. Tickets: $18; $14, seniors; $10, students. Info: www.ckplayers.com, 610-395-7176.
(via @mcall.com)