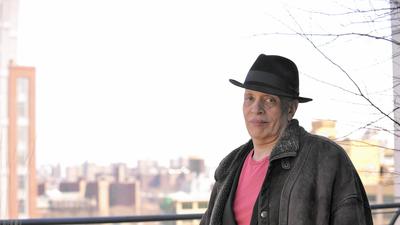 In 2007, Walter Mosley published his book "This Year You Write Your Novel," which the Good Reads website praised as "an essential book of tips, practical advice, and wisdom" for aspiring authors.
Mosley knows of what he writes. Since 1990, he has produced more than four dozen books, including his well-known mystery series centering on the fictional detective Ezekiel Porterhouse "Easy" Rawlins. In 1999, the New York Times described Mosley's prose as being "as plain and gritty as asphalt."
Mosley, a 63-year-old New York resident, will come to Williamsburg Friday night for a presentation at the Kimball Theatre. The talk, part of the College of William and Mary's Patrick Hayes Writers Series, will focus on the suggestions he laid out in "This Year You Write Your Novel." 
Mosley answered some questions in an email exchange with the Daily Press.
DP: You advise others on how to write novels. How did you get your own start?
Mosley: I was 34, working as a programmer/consultant at Mobil Oil on 42nd Street in Manhattan. One Saturday when there was no one else around I got tired of coding in the report program language RPG and instead wrote a sentence – "On hot sticky days in Southern Louisiana the fire ants swarmed." I thought, hey, this could be a novel. I've been writing ever since.
DP: This is a cliché question, but people always want to know where writers get their ideas. Where have you gotten yours?
Mosley: All important ideas in all forms of art come from the unconscious. I just keep on writing and sooner or later these ideas make themselves evident.
DP: There are now 13 books in your Easy Rawlins series. How do you keep the story line fresh after so many books?
Mosley: My Easy novels are time travelers; they pass from era to era. That way Easy is always older and the world is always new – to him.
DP: At the end of "Blonde Faith" in 2007, it seemed that Easy Rawlins might be dead – but he came back six years later in "Little Green." Do you ever get tired of writing about this character?
Mosley: I'm tired of the series after each book. But then I write a different book, or two, and I'm ready to come back to Easy again.
DP: What prompted you to write "This Year You Write Your Novel?"
Mosley: I wrote "This Year You Write Your Novel" because people are always asking me about them and their novels, or the novels they want to write. I know that if I had 90 minutes I could answer that question completely, but it is rare that I have the time. I wrote the book so my answer is always somewhere within reach.
DP: Do you give writing workshops or classes or otherwise work with writing groups?
Mosley: Twice a year I teach at the Sundance screenwriters lab – but that's all.
DP: Can you pick several pieces of advice from the book, or from your experience, to give aspiring writers?
Mosley: There's only one piece of advice aspiring writers need: Write each and every day of your life. Write on a book, not in a journal, and work on one project until it is finished.
DP: Explain your writing process. How is a typical writing day structured?
Mosley: I write as I described above, and I write three hours a day.
DP: What's the one thing you know now that you wish you'd known when you started out?
Mosley: This question has no foothold in my experience. It was all necessary and therefore I cannot regret anything.
DP: What are you working on now?
Mosley: Right now I'm finishing the next Easy Rawlins novel – "Charcoal Joe." After that, I have some TV work to do.
Want to go?
Best-selling author Walter Mosley will speak at the Kimball Theatre, on Merchants Square in Williamsburg, at 7 p.m. Friday. The event is free, but reservations are required. For details and reservations, call 757-221-2437.
(via DailyPress.com)